Koh Samui budget accommodation: Whitesands Bungalows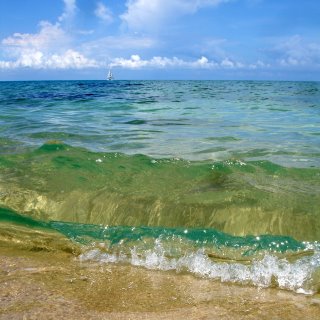 not exactly white sand, but still gorgeous
Making my way down
Hat Lamai
(Lamai Beach) on Koh Samui from Lamai Pearl toward
Hin Ta Hin Yai
(Grandfather Rock and Grandmother Rock) today, I came across a group of neat little bungalows
right
on the beach, and it turns out they only cost 120 baht per night (about US$3.15). Even though they didn't have all the amenities I had at Lamai Pearl like the private bathroom and shower, it had a better view of the ocean, and was just as peaceful and quiet. I couldn't resist — I checked in as soon as I had taken a look at the bungalow and the facilities.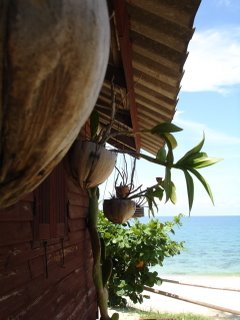 Budget bungalows
It's not much more than basic Thai style accommodation — a couple mattresses with sheets on mats inside a wooden bungalow with a porch to chill out and take in the ocean breeze — simple but effective. A fan, plus an additional electric outlet are included as well. Each bungalow has its own personality, as past and long-term tenants have personalized them with everything from small bits of graffiti, to faded murals on the insides of the window shutters and charming bits decoration and landscaping.
While the Thai staff does freshen up the bungalows between tenants, you may opt to do some of your own cleaning. At these prices, however, I don't think too many budget travelers will have a big problem with that.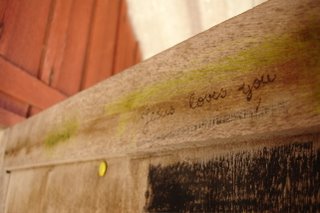 Facilities
As for the budget toilet facilities, one thing I found odd was that the squatter-style toilets are on the opposite side of the hall from the showers, so that you have to re-clothe between tasks if you need to use both. Note: there are no spray nozzles for washing up, and you need to bring your own toilet paper. The sinks are all at the end of the hall. If this is all an issue for you, staying in one of the private bath units, a little further from the beach, for 300 baht (approx. US$7.95) per night is another option, as are the 800 baht per night air conditioned rooms.
Tasty Thai cooking
An additional perk here at Whitesands Bungalows is that although it's off the beaten path, you don't have to go far to eat — there's a Whitesands Restaurant that serves tasty Thai and western food at a decent price. Keep it simple, and you can get a nice meal for about US$2 or less. If you're feeling pretty hungry or you like to drink beer, you can end up spending more, maybe US$3.50 to 4.00.
Comprehensive, friendly service
Not leaving any base uncovered, the Whitesands staff also offers laundry service for 30 baht (about 80 cents) per kilo, motorbikes and jeeps for rent, as well as tours and information about everything Samui Island has to offer. Many tenants here love it so much, they stay for months on end, some even stay most of the year. If you're coming to Koh Samui, Thailand on a budget, it's definitely worth the time to see why many people from around the world keep coming back, or simply don't leave.
How to get to Whitesands Bungalows from the southern end of Lamai, on Koh Samui:
From
Ban Lamai
(Lamai town), take road 4169 heading southwest and turn left at the sign, immediately before 7-11. Follow the dirt road down a few hundred meters or so, turn right at the Whitesands Bungalows Restaurant sign, then turn left at the end and park in the cul-de-sac.