Tsunami, The Aftermath Update
Tsunami, The Aftermath Part 1
(of 2) has got a release date, finally! As you may recall, I worked as an extra on this movie when it was being filmed on location Khao Lak, Thailand. December 10th, the 2004 tsunami story, based on real life characters and events will start airing on HBO, almost every day of the month.
Right now, there's a behind-the-scenes documentary entitled
Making Tsunami, The Aftermath
being shown. I may or may not show up in either of them, but if I do, you may get to see me playing volleyball on the beach and gawking at the strange sea behavior (woohoo), and maybe even dead on the ground (eww).
BBC Film details
HBO Schedule for

Making Tsunami, The Aftermath
HBO Schedule for

Tsunami, The Aftermath Part 1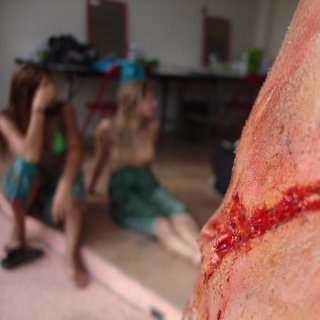 my professionally applied fatal(?) wound