Thailand: Khao Lumpee National Park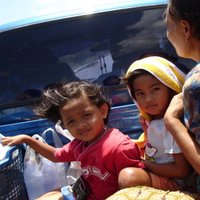 Today the folks from Weerapat's Kitchen closed the restaurant, and invited me to come with them to Khao Lumpee National Park to eat and swim at the
nam tok
(waterfall) for the day. Upon arrival, I realized that I was the only
farang
(foreigner) at the main swimming hole at Khao Lumpee, maybe at the whole park. Pretty cool. :)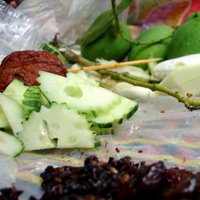 Earlier, Tou prepared sun dried pork and sticky rice, which was was amazing as usual. We also ate some fried tofu, sliced green mango and cucumber with
pha la
a spicy chili sauce made with crab. Mmmm...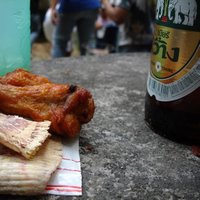 Here we have fried chicken (left) and dried
pla-muk
(squid, lower left). The squid pretty much tastes like 100% recycled paper grocery bag at first -- but after about 8 to 10 chews, it's bursting with juicy cuttlefish flavour. If you don't like seafood, this is definitely not for you. On the other hand, I know one
cat
that's probably salivating as she reads this. Insert
Phil Ken Sebben
"Ha HA!" laugh here. ;)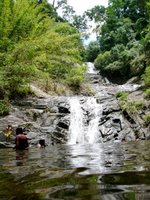 The change of scenery was refreshing, and after a siesta in the shade, I jumped in the water for a swim before taking off back to town. Tou cooks every day, so tonight I am giving him a break and cooking instead. I'm making my special chicken recipe using the
especies tipicas de Granada
that I brought from Spain.
I didn't get a chance to check out the trails or hike up to the top of the waterfall, but it's not far from Khao Lak so it's quite possible I'll be able to visit later, and get more photos from this beautiful little park.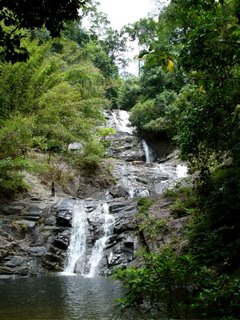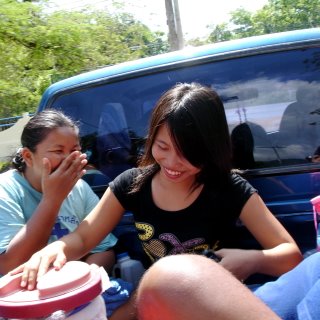 P.Sao (owner of Weerapat's Kitchen) and Wan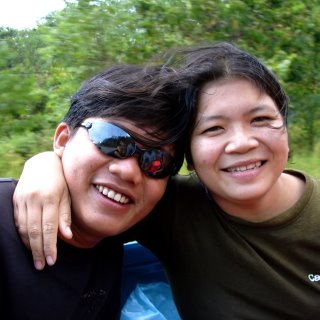 Tou and Sant