Thailand: Moken people at Tap Tawan
Today was pretty much a normal day at Tap Tawaan, mixing mortar for the brickers, and cutting rebar to help tie the bricks to the cement pillars that support the roofs of the kitchens we're working on. The exception was that today we met "super cute Moken baby".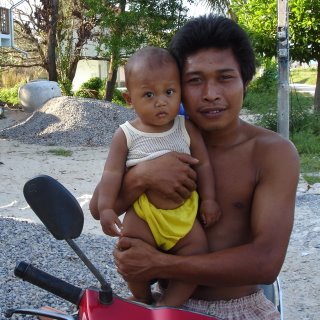 The Moken villagers are who inhabit Tap Tawaan. Also known as sea gypsies, they are supposed to be more "in tune" with nature than other people. However, I get the impression that this tendency seems to be fading with the new generation as technology, western products and values wedge their way in.
Unfortunately, there appears to be a number of inaccuracies at Wikipedia.org about Moken people, and as soon as I get more, verifiable information, I will update the Wikipedia articles and post about it here.