Happy St. Patrick's Day
Tonight I went to Pia Foot Massage's big St. Patrick's Day party with P.Su, Ake, and P.Nid, a friend of P.Su's visiting from out of town. The party featured fire dancers, face painting, potatoes, Guinness, free BBQ, and a hyped-up moustache contest. I heard Mark, a guy from Seattle, was the winner in the overall best moustache category. If I see him tomorrow and he still has it, I'll try and get a shot and update this post.
Update:
Mark shaved it off. Sorry.
I normally hate using the flash. Lately, my camera's flash has been acting up too -- it either doesn't fire or fires so hard that it blasts the color almost completely out of the scene. (It probably doesn't help that I do construction with it in my pocket.) Sometimes, however, with the right settings and finesse, the flash can make for some trippy effects. The woman in this shot is P.Nid.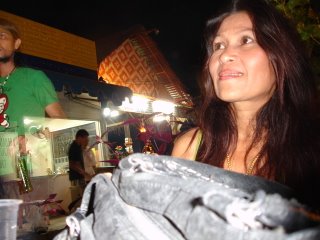 Next we went over to Weerapat's Kitchen to say hi for a bit and some refreshment before heading to Happy Snapper for some live music. I got my almost-daily staple: chilled, fresh young mak prao (coconut). Mmmm...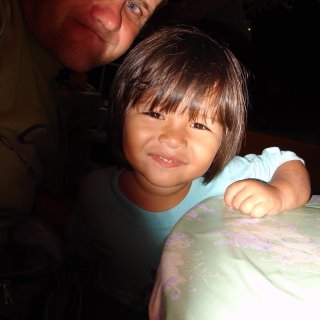 Arthur and son Weerapat (a.k.a. Eric) outside Weerapat's Kitchen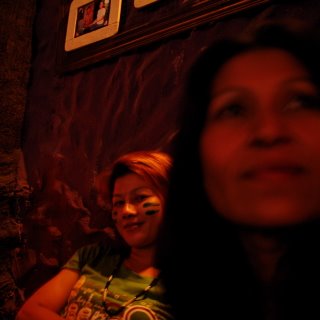 P.Su (left) and P.Nid enjoying the tunes at Happy Snapper
So what did you do on St. Patty's Day?